Our Yarmouth Brewpub & Yarmouth Craft Pizza locations are right next to each other on Main Street in Yarmouth, Maine. Our flagship Yarmouth Brewpub is where Brickyard Hollow got started! We quickly realized our craft pizza needed its own operation, thus the opening of a separate Yarmouth Craft Pizza. Over the years, Brickyard has been proven the perfect addition to our community.
Our Yarmouth brewpub is where it all started and truly embodies who we are as a company. This beautiful location is brought together by a modern, rustic design, rich history, and the joy of our patrons. We've brought to life the history of Brickyard Hollow by revitalizing and showcasing this historic downtown location. Join us in our dining room for date night or with the whole family. This location also has a large patio that is great for enjoying the warm days and nights of a Maine summer.
Our Yarmouth brewery is always searching for new ways to partner with our Yarmouth community in mutually beneficial ways. One of our long-time efforts to this end is running "Community Nights" consistently, where we give back 5% of our sales for the evening to local organizations and causes. Know of a local organization that could use support? Contact us here to let us know how we can help.
+ Read More
This location is meant to be a welcoming gathering place for the community, featuring a full-service bar, an on-site craft brewery, a lunch and dinner menu, kids' options, occasional live music, and much more.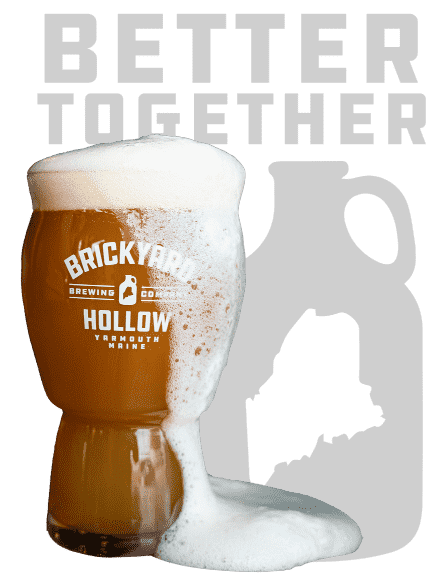 With fresh, gourmet, craft pizza for dine-in, take-out, delivery, or slices to go, our Yarmouth Pizza location has something for the whole family, including the gourmands in your life. Monday through Friday, we have a 4 pm to 6 pm happy hour special in Yarmouth, a pizza slice & a beer are just $7.
A cooler full of canned beer for you to grab-and-go and plenty of cold craft beer on draft to enjoy with your slice of pizza completes the Brickyard Hollow experience. And, of course, we have great other options for those who are not in the mood for one of our gourmet pizza pies! This is a fast-paced dining option for your fast-paced lifestyle, so please stop by and see everything we have to offer.
Follow us on Facebook and Instagram to stay in touch and up-to-date with all we are doing!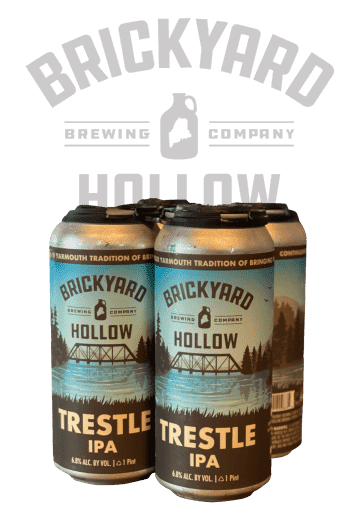 THINGS TO DO WHEN VISITING YARMOUTH, ME
The historic center of Yarmouth, where we're located, is a great starting point to explore Yarmouth, featuring highlights like the Flaming Arrow Weathervane, which was donated to the center by the Haskell family after being removed from the West Trail.
+ Read More
Cousins Island is another must-see destination in Yarmouth, located in Casco Bay. The island has a small permanent population, but visitors come to enjoy the beach, which is perfect for swimming, kayaking, and cycling. Sandy Point Beach is another quiet and secluded spot, great for family picnics and swimming.
For those looking for a peaceful stroll, the Royal River Park and Grist Mill Park offer scenic trails that follow the river bank and lead to historical sites such as the waterfall and historic mill site. The park is also a popular spot for picnics and swimming.
Littlejohn Island is another natural preserve, covering just 23 acres but offering lovely views over Casco Bay and a diverse landscape of rocky coast, sandy beach, and red oaks. The island is a popular spot for birdwatching, home to bald eagles and great horned owls.
Yarmouth offers a perfect blend of history, natural beauty, and outdoor activities for visitors looking to experience the best of Maine.