Make Your Event Better With Brickyard Hollow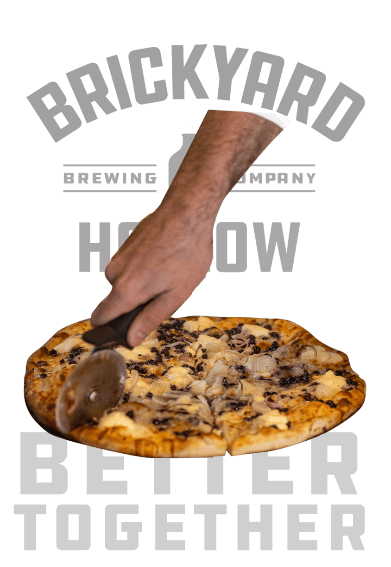 The Best Craft Pizza in Maine
Indulge in our signature craft pizzas, priced at just $10 per person. Each guest will enjoy three large slices of our mouthwatering creations. From meat lovers to vegetarians, we have a variety of options to satisfy everyone's taste buds.
Our meat pizzas include delectable combinations such as Mashed Potato with Bacon Shallot, Roasted Chicken Pesto, and Buffalo Chicken with Red Onion and Gorgonzola, and the standbys like Pepperoni. For veggie lovers, our options include plain cheese, Blueberries with Ricotta and Shallot, Fresh Mushroom with Broccoli, and a classic Margherita.
Craft pizzas are $10 per person.
Starters to Get the Party Started
Kick off your event with our delectable starters. Our Four Cheese Breadsticks, perfect for sharing, are a crowd favorite. Indulge in BH Pretzels or add some flair with Sweet Chili Teriyaki Pot Stickers. These tantalizing appetizers will set the tone for an unforgettable dining experience.
Prices start at $1.25 each.
Delicious Salads to Share
Complete your meal with our fresh and vibrant salads. Choose from the Strawberry Feta, Caesar, Greek, or Garden salads, each portion feeding 10 people. These salads are the perfect complement to our craft pizzas, ensuring a well-rounded and satisfying meal for your guests.
Our refreshing salads are priced at $5 per person.
Wings Worth Savoring
For wing enthusiasts, we offer a selection of flavors that will tantalize your taste buds. Choose from BBQ, Sweet Chili Thai, Cajun, Nashville Hot, or Salt and Pepper. Wings are priced per wing, allowing you to customize your order to suit your guests' preferences.
Wings are priced at $1.50 each
Introducing the Brickyard Beer Truck
Make your event truly memorable with our brand-new custom-built tap truck. Our beer truck package is priced at $4,000 for 6 hours, which includes beer, a bartender, and 4 taps. This unique addition will elevate your gathering, allowing guests to enjoy a wide selection of refreshing beverages. The beer truck is available for delivery within 75 miles of Yarmouth, ME, and can also be outfitted with mixed drinks for an additional charge.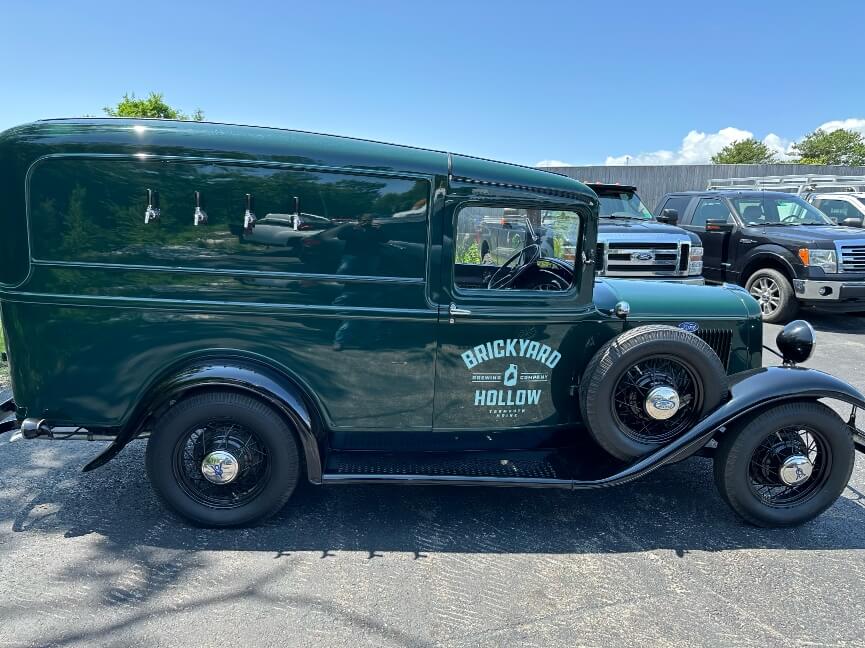 • Minimum Number of People: To qualify for our catering menu, events must have at least 20 attendees.
• Travel Range: Catering is currently only available within 45 minutes of a Brickyard location. Consider picking up frozen or half-baked pizzas if you're outside of our standard catering range.
• Service Included: Food service is not included at this time; however, we will always send a bartender with our beer truck.
• Preparation is Offsite: We currently offer off-premise catering only.
• Is Pizza Mandatory? No, while most orders include our specialty craft pizzas, it is not mandatory to include pizza in your catering order.
To inquire about our catering services, please fill out the form below with your event details. Our team will promptly get in touch with you to discuss the details and ensure your event is a resounding success.